View Loan History
Do you want to try to find that great book you read last summer?  You can't remember the author for a book you just read that you want to recommend to a friend?  The Loan History option on the Account Summary menu gives you the opportunity to view every item you have taken out of the library.  This option displays a list of titles and the date when you borrowed the item.  Through Loan History you can also print out every item you ever checked out.
Note:  Your library may not provide access to this option.  If you do not see Loan History listed in the My Account menu, consult your librarian.
To view Loan History, click My Account on the PAC toolbar.  If you have not already logged on, you will be asked for your Patron ID Number and PIN.  The Account Summary dialog opens.  Click Loan History.  Refer to the example below: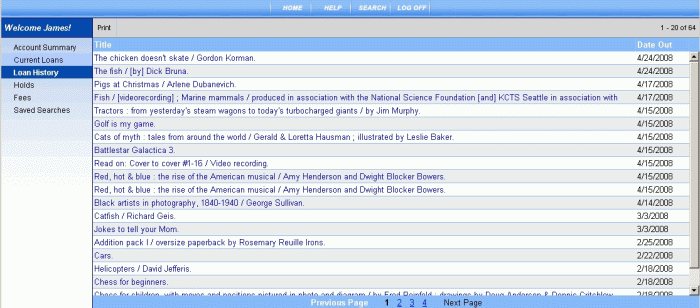 Click any title to view the label display for each item.  See Understand Label Displays for additional information.
Clicking the Title heading will sort the column alphabetically in ascending or descending order. Clicking the Date Out heading will display the column in ascending or descending date order.  
The numbers in the upper right corner indicate the total number of items in your loan history.  In this example, 1 - 20 of 70 indicates you have a total of 70 items with 20 displayed per page.  
If you have more than one page in Loan History, the page navigation at the bottom of the screen allows you to select an individual page to review, or go to the next page in your history.  The use of Previous Page and Next Page also provides the means to move forward or backward, one page at a time. Review the navigation example, shown below:

This indicates there are four pages and page three is currently showing.  Click the number, Next Page, or Previous Page to move forward or backward.
 
To Print Loan History
To print the items on the list, click Print on the Loan History toolbar.  The Print dialog displays.

Once you have selected the appropriate printer, click Print.

If you are printing in the library, check with your librarian for printer configuration and location.  
Note:  If you have more than one page of information, only the page currently displayed will print.  Multiple pages will need to be printed individually.  
TIP!  For the best print results, use Print on the Loan History toolbar instead of your browser.
Caution:  If you plan to use the library's printer, there may be a fee involved for printing.  Check with the front desk for applicable fees before sending your information to the printer.
See View Account Summary for more information about My Account.
See also View Current Loans, View Fees, View Holds, or View Saved Searches.