Save Search
The Save Search option appears on the PAC toolbar after you have set up your search criteria and clicked Search.  Save Search gives you the opportunity to save the search criteria you used for future reference.  This is a great option if you do a lot of research and want to keep track of the search criteria used, as in the example of someone tracing their genealogy.  
When you click Save Search, the Save This Search dialog displays, as shown below: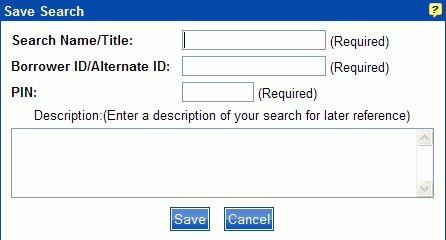 Type the search name in the Search Name/Title entry box of the search you want to save.
Note:  It would be helpful to enter the same name you used as the keyword in your keyword search.

Type your borrower ID in the Borrower ID/Alternate ID entry box.

Type your PIN in the PIN entry box.

Type a brief description in the Description entry box describing why you are saving your search for future reference.  Saved searches will be stored under Saved Searches in My Account until you elect to delete it.  

Click Save to save the search to Saved Searches in My Account.  A message displays, 'Your Search has been saved.'
Note:  If you try to save a search and a message displays, 'You have maximum number of searches saved, please delete one or more searches in order to save additional searches.', then you will need to delete a search from Saved Searches in My Account.  The maximum number of entries allowed in Saved Searches is ten.
See View Saved Searches for more information about the saved results in My Account through the Save Search option.
See also PAC Toolbar Overview for other options on the PAC toolbar.