Research Reading Programs
If your library participates in certain reading programs, you can search your library's PAC to view the items available to you.  Using the Reading Programs search option you can find specific reading levels, interest levels, and point values associated with your library's reading program(s) and their related materials.  Consult your librarian if you are unfamiliar with the reading programs offered at your library.
For information on how to use the Reading Programs search option, see Reading Programs.

Understanding the Reading Programs Results Set
Once the criteria for your Reading Programs search is entered, your result set is returned.  The search form is displayed at the top of the result set.  This gives you the opportunity to make changes in your search criteria if your results did not meet your expectations.  Reading Level, Interest Level, and Point Value can also be adjusted using the drop-down lists.  See the example below of a reading program result set for a search containing 'bear'.
Each entry displays the Reading Program

result set icon, as seen in the example above.
In this example, there are over 250 results returned for this search.  The results per page has been set to 10.  This can be adjusted through Set Limits to view up to 100, if desired.
Use the Sort By drop-down list to sort your results by Title, Author, Publication Date, Availability or Material Type.
Use the Select an option to save result drop-down list to save selected results, or all of the results to a review list. This list can be printed out in the Review List toolbar option.  See Save Result and Review List for more information.
Clicking on the second title in the result set, The Berenstain Bears and Mama's new job displays the label display shown below: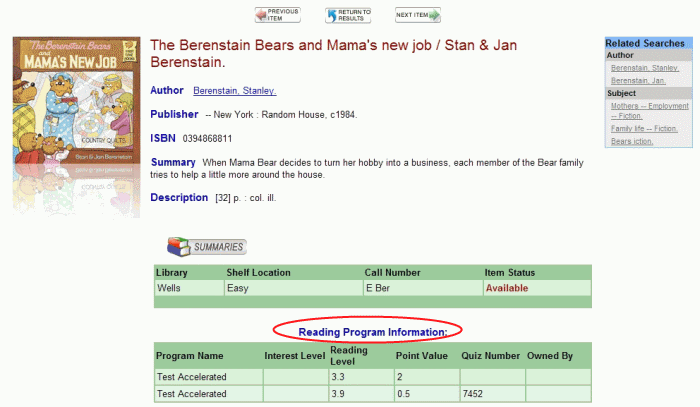 The Reading Program Information table displays the Interest Level, Reading Level, and Point Value along with Quiz Number, if applicable.  The Owned By column will display the location of the library that holds the test for the referenced Reading Program.  In this example, the Reading Program for this book is Test Accelerated, shown under Program Name in the above example.  If you need further assistance, your librarian will be able to help you with interpreting the reading program information in your result set.
See also Keyword Search, Browse, Advanced, or New Items for information on other search options.