Browse
Browse in the Search dialog gives you a broader coverage in your results than you would find in a keyword search, or an advanced (combination) search.  It provides a different way to search if you are uncertain about what you really want.
In Browse you are covering a wide range based on what you choose to search (e.g.,Title, Author, Subject, etc.)  You may have an idea on the general subject you want, or even the author you would like to find, but you are not sure of the rest.  Surprisingly, you may find items you hadn't even considered.  
So, how does Browse work?  To use the Browse option, click the Browse tab and the following displays: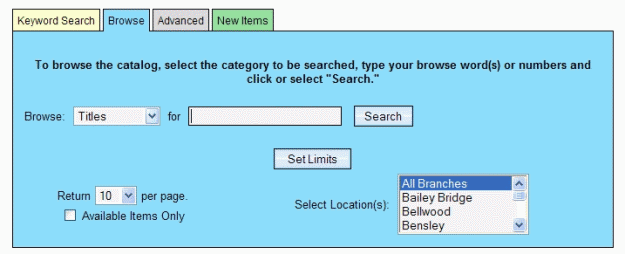 The display looks similar to the keyword search, right?  You can select to browse by Titles, Author, Subjects, etc., using the drop-down list, and then adding your keyword in the entry box.  You can even browse numerically with the use of Local Call numbers, Dewey, ISSN, among others.

Remember!  You can still Set Limits using Collection, Format, Language, Place, and Date options.  You can adjust the results output by modifying the returns per page in the lower left corner of the dialog, or selecting the Available Items Only to limit your results to only those items available in your library or selected branches.  
Once you have everything in place, click Search.  Your results are displayed alphabetically for Titles, Authors, Subjects, Notes, Publisher, or Series.  Selecting Local Call, Dewey, GPO, ISSN, LC Call, LCCN, or LCCN 2000+ display the results in numerical order.
Let's try one together.  Based on a search for Subjects, using Football as the keyword, the result set might look like this: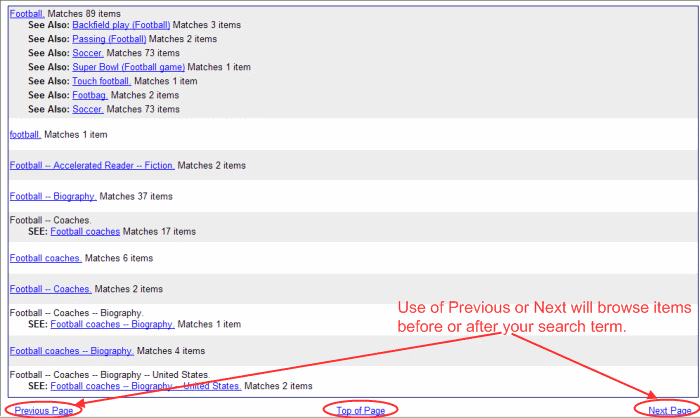 You can use the Previous Page or Next Page at the bottom of the screen to continue to browse items before and after your search term.  Use Top of Page to go to the beginning of the current result set.  Click any of the topic links in your browse results listings to view an additional result set for the selected topic.  In the example above, you also can view related items, such as the See Also areas for Footbag and Soccer.  From the selected result set, click any item you are interested in to view the label display.
See Understand Browse Search Results, Understand Individual Search Result, Understand Label Displays, and Do a Browse Search for more information on your search results.
See also Keyword Search, Advanced, and New Items for other ways to search the PAC.