Understand Browse Search Results
The result set from a Browse search is different from one you see when you perform a Keyword Search or an Advanced search.  Remember, a Browse search is covering a wide range of topics.  An alphabetical listing displays for a search using Title, Author, Subject, Publisher, or Note.  A numerical listing shows for Local Call, Dewey, GPO, ISSN, LC Call, LCCN, and LCCN 2000+.  This topic will discuss examples for both alphabetical and numerical searches.
To get started, let's do a Browse for Authors and type 'clancy' as the keyword.  Review the Browse search results shown below: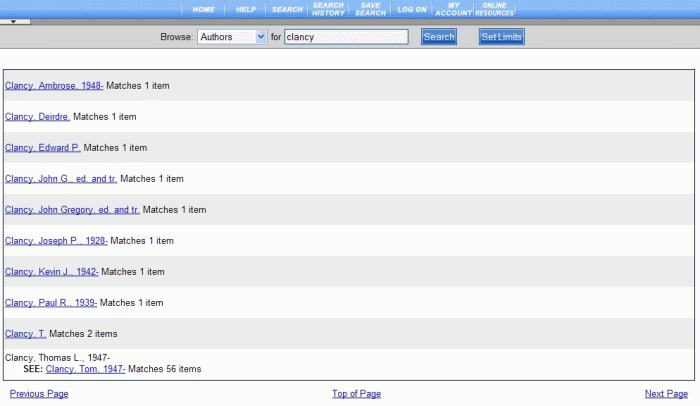 A wide range of result sets is returned.  Each line in the Browse results displays a result set with the number of matching items noted in each entry. The last one in this result set, 'Clancy, Thomas L., 1947-', shown above, contains 56 items in the result set.  Clicking on each item will open the result set for that item.
Use of Previous Page and Next Page takes you to items alphabetically before and after the original search term entered.  Top of Page returns you to the top of the result set currently being viewed.
At any time you can browse using a different search type, or word(s) with the search dialog at the top of the result set.  Click Set Limits to narrow your search further regarding Collection, Format, Language, and Place.  You can also adjust your results per page, view available items only, or select certain branches pertaining to your desired results along with using dates to pinpoint specific items.
Let's look further at a result set within the browse results.  Clicking the See: Clancy, Tom, 1947- link, discussed above, the following displays:


This looks similar to the result set returned from a Keyword, Advanced, or New Item search.  The original Browse criteria displays at the top of the result set with a Sort By drop-down list.  The Sort By provides an opportunity to sort using Title, Author, Publication Date, Availability, or Material Type.  There is also access to Select an option to save result drop-down list, shown circled in red above, where individual or all items can be saved to a review list.  See Review List for more information.   
Any browse search using a numeric (Local Call, ISSN, etc.) will return a result with individual records.  Let's look at one for Local Call number.  Using '345' as the search term, the following result set displays: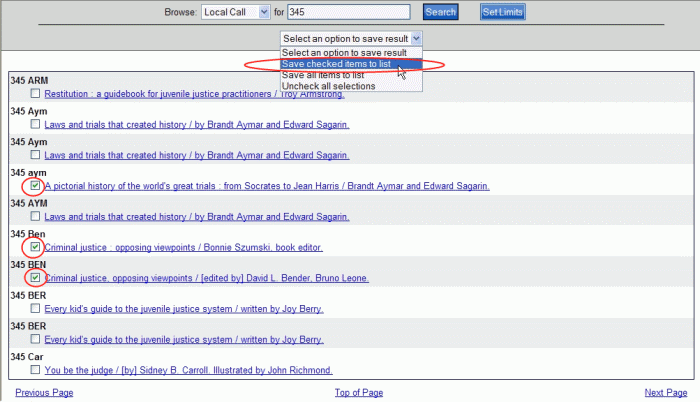 Notice in this result set, check boxes are available for each result.  In a numeric browse the result set displays individual records, rather than groupings as shown in the first example for 'clancy'.  You have the opportunity to save individual items, or all of the results using the Select an option to save result drop-down list.  Select the check box next to each item, shown circled in red above.  Selecting Save checked items to list after choosing your items will add these items to a review list.  The review list can be viewed at any time during your PAC session, but the review list is cleared if you become inactive in the PAC.  See Review List for more information.

See Browse for additional information about this search type.
See also Keyword Search, Advanced or New Items for other search options.